Research
Our primary research goal is to understand how visual information is represented by the visual system and how it is encoded and integrated into memory.
What constraints do visual processing and prior knowledge impose on information encoding?

How do visual representations transform from perception to working memory to long-term memory?

How do we store information about items that are strongly related to other items or to the context?
Our research approach draws on formal models to understand the common ground between vision and memory. In particular, we develop behavioral and EEG paradigms designed to tap what information is represented and what information persists in visual memory, and use signal detection-based, Bayesian, connectionist and information theoretic tools to formalize the underlying memory representations. Our research has focused on three core areas: the representations involved in visual working memory and visual long-term memory; the nature of our existing knowledge of objects and scenes; and what kinds of subtle statistical regularities observers learn from the world.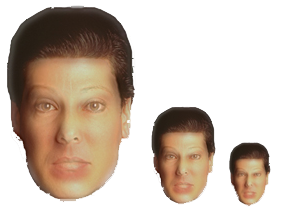 Perceptual organization across spatial scales
Visual perception is a problem of induction - we are given ambiguous input and must decide which of many possible interpretations is the correct understanding of the world. In middle-level vision, this is typically referred to as the problem of perceptual organization: how we take the bits and pieces of visual information that are available in the retinal image and structure them into larger units like objects. We have investigated perceptual organization across different spatial frequencies - how the blurry, low spatial frequency of an image and the fine, high spatial frequency details in that image interact to form our eventual percept. Our visual system is thought to break down images by spatial frequency early on in the visual pathway, so examining perceptual organization across spatial frequencies allows us to get a better idea of the types of integration the visual system has to deal with as it builds a representation of the world. We have concluded that assymmetric hysteresis effects allow our visual system to integrate across spatial frequencies in a way that provides us with the most accurate interpretation of the world as we move through it.
Relevant Papers
Brady, T. F.
, and Oliva, A. (2012). Spatial frequency integration during active perception: Perceptual hysteresis when an object recedes.
Frontiers in Perception Science
, 3 (462), doi: 10.3389/fpsyg.2012.00462.
PDF
.
Open Access on Frontiers website
.